Matt is a guest blogger for
No Milk Please
.
When he's not beating off to
shirtless pictures of Brian Urlacher
, Matt can be seen drunk at bars, wolfing down greasy diner food or riding a bus called the 135. Quick witted, intellectually superior and all knowing, he is here to
answer your questions
regarding love, life and sexually transmitted diseases.
Bring it on....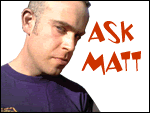 You can send Matt a question by e-mailing him at
nomilkpleezATyahooDOTcom
Matt's guest posts on No Milk Please:
Ask Matt 01/29/2007

Ask Matt 04/23/2007

Back to the
Main Site