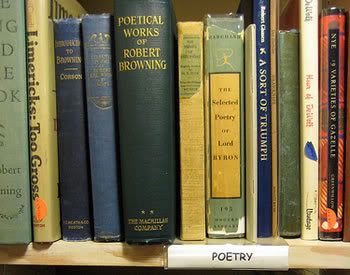 Sometimes the reading of a poem evokes in me a thrill, a giddiness and melancholia. Sometimes, I despair at the beauty of the words and I rail at the unfairness of my own incapacity. Then, I kick myself for using words like "rail" and "incapacity." What a tool.
These are the poems that I love and posted in
NMP
. Some I have found while reading issues of
The New Yorker
magazine. Boy, they should be paying me a commission for promoting their fucking magazine.

Chinese Poem
by J. D. McClatchy

To Boredom
by Charles Simic

First Love
by Yehuda Amichai

The Diver's Clothes Lying Empty
by Rumi

Suddenly There's Poughkeepsie
by Grace Paley

Living
by Jason Shinder

Where My Feet Once Walked
by Yehuda Amichai

First Snow
by Louise Glück

Driving Home
by Charles Simic

Stone
by Charles Simic

Otherwise
by Jane Kenyon

i carry your heart with me
by e. e. cummings
-----
Also:

Cartoons
- These are the cartoons that have appeared in
NMP
.